As an animal rights supporter and avid outdoorsman Diane Nieman loves visiting National Parks across the United States.
If you find yourself traveling around the U.S this summer, visiting some of the National Parks should be at the top of your itinerary. There is no other way to experience the variety in U.S landscapes than to hop in the car and start exploring the different eco-systems of the country. There are 58 of them and while you won't be able to get to them all, here are the top parks to see this summer recommended by Diane Nieman.
Yellowstone : Wyoming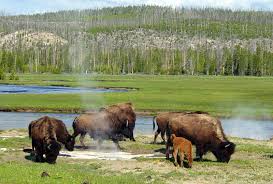 It is the country's first national park and after all of these years it still holds the title as one of the best. Due to the volcanic activity, there are plenty of geysers, colorful hot springs and bubbling mud pots to be seen. Make sure to get a look at Ole' Faithful as she erupts like clockwork or venture out onto the board walk paths to get an up close look at some of the hot pools. Diane Nieman especially loves this park for wildlife sighting. During her travelers here she has often seen many enormous bison that are usually just roaming around.
Joshua Tree : California
Located in the desert of California, Joshua Tree has a striking landscape of large boulders and whimsical looking trees. There are plenty of options for camping, especially around the large boulders which act as an adult playground. Some of Diane Nieman's favorite activities at Joshua Tree include rock climbing, horseback riding, hiking or star gazing once the sun goes down.
Everglades : Florida
For a truly unique landscape, the Everglades are a must. Check out the swamps of the south as you take an air boat ride through the water. The captain will typically stop and point out gators in the water as you go by. It's a day spent in some of the country's most unique sect of nature.
To learn more about Diane Nieman and her outdoor adventures, check out her profile on About.me: https://about.me/dnieman.